"Yes! We are almost there."
All Ghanaians are getting ready to celebrate Ghana's Independence Day. The perfect time to call Ghana from USA? Do you want to know how to call Ghana from USA? Relax! We'll walk you through the process of utilizing Slickcall to make inexpensive international calls to Ghana in order to wish your loved ones. Continue reading and we will show you how to earn FREE calling credit!
1. How to call Ghana with Slickcall | Let's start from the beginning
Calling Ghana from USA is effortless and economical with Slickcall. We won't impose any additional fees on you in addition to our affordable international calling rates.
Let's start with the first step and see how can we make cheap calls to Ghana. See below
1.1. Download the Slickcall app
The first thing you need to do for calling Ghana from USA is to download the Slickcall app. Follow our guidelines mentioned below;
Download the app fromPlay Store or App Store.
Enter your mobile number.
Enter the OTP code for verification.
And start your CALLING journey with us!
1.2. The right way to save a Ghanaian landline or cell number
The second step for calling Ghana from USA is to save the international number in the correct format. There is a slight difference between saving a Ghanaian mobile phone number and a landline number.
1.2.1. Mobile phone number
Follow these steps to save a number to call Ghana mobile number in your phone contact list;
Enter +233, the country code for Ghana.
Next enter the area code. (The area code consists of 2 digits)
At the end, enter the phone number which usually consists of 7 digits.
Press the "Save" button.
1.2.2. Landline number
To save a landline number to your phone's contact list, follow these instructions;
First, country code of Ghana.
Next, area code where you want to call.
Now the local landline number.
And press the "Save" button.
1.3. Subscribe to a calling plan or add credit
Well, this is the most interesting and important step to do. We give you two options either choose pay-as-you-go or you may subscribe to any of the monthly or daily calling plans.
1.3.1. How to add credit?

Open the Slickcall app
Go to "Account".
Select your amount to top up.
Add credit card details.
Press "Pay".
1.3.2. How to subscribe calling plan?

Open the Slickcall app.
Press "Account".
Press "Calling Plans"
Search for your desired countrye. Ghana.
Choose a calling plan to subscribe.
Choose the desired payment method.
2. How to call Ghana from USA | Area codes are compulsory for calling Ghana
Want to call Ghana from USA JUST NOW? Check out this list of several calling codes that may be useful: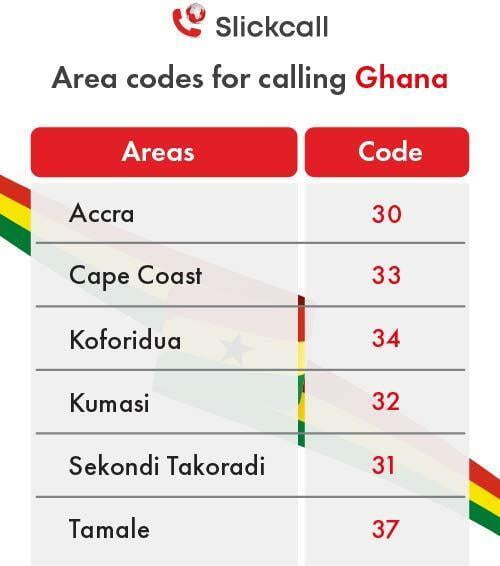 3. Missing someone in Ghana? Call Ghana from USA now
On 6th March 1957, Ghana, a West African country gained independence from the British authorities after being ruled for over 100 years. Ghana was one of the first countries to secure independence in sub-Saharan Africa. We appreciate and salute the sacrifice and hard work of all generations of Ghanaians which is why we believe they should get something special!👇
4. Make cheap calls to Ghana from USA at the best rates
We know you are looking for the cheapest way to call Ghana from USA on this Independence Day. Have you found? Or still, searching? Don't waste any further time and download our international calling app and check our affordable calling rates for Ghana.
5. Do you love to save money? If yes then see below!
How many international calling plans have you tried yet? 10 or 20? We know now you are tired of continually looking for cheap international calling apps and those expensive calling rates. You want some relaxation in your life. We got you!
5.1. You need Slickcall
The Slickcall international calling app is the solution to your every international calling problem. Our calling rates are lower than any other app available. And we can give you full guarantee that you won't regret making this choice. Our app is one of the best and smartest services for making international calls.
5.2. Why do you need Slickcall in your life?
You might be asking yourself why you need Slickcall. Why is it so important for calling Ghana from USA? Come! we will show you why it is important;
Call Ghana from USA at the lowest
Seamless calling experience.
High-quality voice calls
Affordable international calling plans.
6. The fastest and the cheapest way to call Ghana from USA
We at Slickcall use VoIP technology, which uses the internet to connect your calls instead of using a traditional or old method. Using VoIP based calling app will definitely reduce the amount you pay to call Ghana from the US.
In simple words, NO need to pay any extra charges for calling Ghana from USA.
6.1. A gift that connects you to others' heart
This Independence Day we want to give a special gift to our Slickers! We want to give you FREE calling credit as a gift. But you have to follow a few simple steps to receive this gift.
Open the Slickcall app.
Go to "Account".
Press the "Earn Bonus" button.
Press "Invite friends".
Click the link to avail of the offer and enjoy FREE calls to Ghana.
7. Recap | Better way to call Ghana from USA
Slickcall offers you a better and cheap way to call Ghana from USA.  We believe that communicating with family and friends who live overseas should be convenient and hassle-free. In addition to being simple and easy, Slickcall offers you the opportunity to enjoy high quality international calls anywhere in the world. Therefore, if you want to stay in touch with loved ones while on the go: utilize the best international calling app, Slickcall!

Happy Independence Day!😃
8. FAQs 
1. How do I make a cheap international call?
Use the Slickcall app to make cheap international calls to Ghana from the USA.
2. Is WhatsApp free for international calls?
You can call your contacts on WhatsApp for free, but if they are in another country. Voice calling uses your phone's internet connection so it may charge you. As data charges may apply. But if you use Slickcall, you will be not charged extra except for the subscription to a package!
3. Can you make international calls on the internet?
You can leverage a VoIP service provider app, the Slickcall app to call internationally using WIFI.
4. How can I call internationally for free without the internet?
You can call without the internet but it would cost you too much. Better use the Slickcall international calling app to connect to your loved ones.