1. Introduction:
In the era of global connectivity, finding an affordable and reliable calling app is essential. Slickcall has emerged as a game-changer, providing users with exceptional international calling rates that surpass the competition. In this blog, we will compare the calling rates of Slickcall with other popular calling apps like Rebtel, Boss Revolution, Yola, Keku, and Talk 360. Get ready to discover how Slickcall offers unbeatable rates, ensuring you stay connected without burdening your pocket.
Comparing Calling Rates: Slickcall vs. Competitors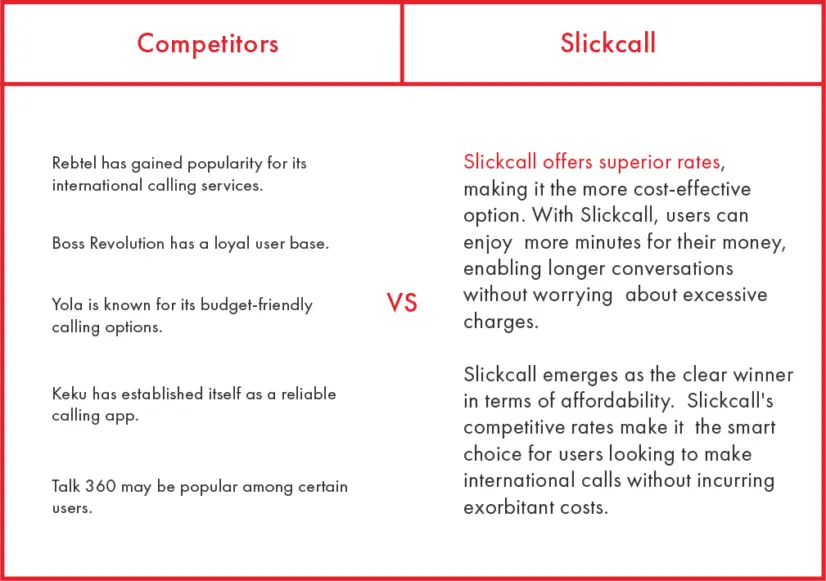 2. Why Slickcall's Calling Rates Stand Out:
Unbeatable Pricing:
Slickcall's calling rates are significantly lower than its competitors, allowing users to make international calls at a fraction of the cost. The unbeatable pricing ensures that you can connect with loved ones worldwide without worrying about hefty bills.
Wide Range of Destinations:
Slickcall offers competitive rates for a wide range of calling destinations. Whether you need to call North America, Europe, Asia, or any other part of the world, Slickcall covers it all, making it a versatile choice for global communication.
No Hidden Fees or Extra Charges:
Transparency is a core value at Slickcall. Unlike some other calling apps, Slickcall does not impose hidden fees or extra charges. What you see is what you get, allowing you to budget your international calls with confidence.
Premium Call Quality:
Despite offering affordable rates, Slickcall does not compromise on call quality. With crystal-clear voice calls, you can enjoy uninterrupted conversations, ensuring that you stay connected with your loved ones seamlessly.
3. Conclusion:
When it comes to calling rates, Slickcall emerges as the clear winner, surpassing the competition in terms of affordability, versatility, and transparency. Compared to other popular calling apps like Rebtel, Boss Revolution, Yola, Keku, and Talk 360, Slickcall offers unbeatable rates, allowing users to make international calls at a fraction of the cost. With no hidden fees, a wide range of destinations, and premium call quality, Slickcall provides a budget-friendly and reliable solution for global communication. Stay connected with Slickcall and experience the difference in calling rates. Start enjoying affordable international calls today!
4. FAQs
Can I make long-duration international calls with Slickcall's rates?
Absolutely! With Slickcall's affordable rates, you can make longer international calls without worrying about excessive charges. Enjoy extended conversations with your loved ones without breaking the bank.
Is call quality compromised with Slickcall's lower rates?
No, Slickcall maintains premium call quality despite offering affordable rates. You can expect crystal-clear voice calls, ensuring a seamless communication experience with your friends and family.
Are there any additional features or benefits included with Slickcall's calling rates?
Along with competitive rates, Slickcall offers features such as a user-friendly interface, secure payment methods, and a variety of calling bundles to suit your specific needs. Enjoy a comprehensive calling experience with Slickcall.
Can I switch to Slickcall from another calling app without any hassle?
Yes, transitioning to Slickcall is seamless. You can easily switch from your current calling app to Slickcall by downloading the app, creating an account, and enjoying the cost-effective calling rates right away.